Click here to view original web page at patch.com
As of Monday, the Cedar Park library began offering its patrons the use of Hoopla Digital, a Netflix-like streaming service yielding 24/7 access to thousands of movies, music, eBooks and comics. The service provides free online and mobile access to more than 400,000 library materials…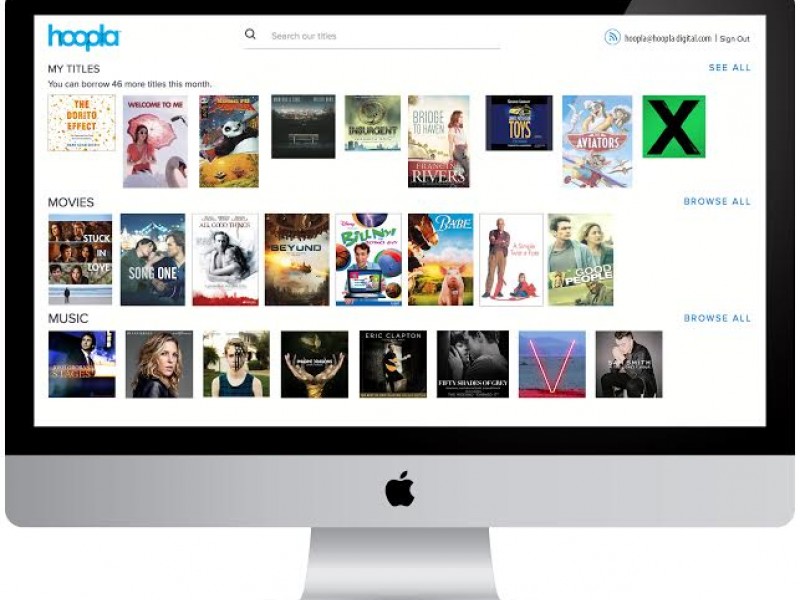 CEDAR PARK, TX -- As of Monday, the Cedar Park library began offering its patrons the use of Hoopla Digital, a Netflix-like streaming service yielding 24/7 access to thousands of movies, music, eBooks and comics.
The service provides free online and mobile access to more than 400,000 library materials, available for download and automatically returned to avoid library overdue fines. The library is the third entrant subscriber of the service, after the Austin and Pflugerville public libraries.
With the service, library card holders have free, round-the-clock online and mobile access to materials. They can instantly enjoy on-demand content from smartphones, tablets, PCs, Apple TV and Chromecast.
Yes, it's a brave new world in the way of checking out library items.
"We are already in 4,200 library locations in North America, and we've only been doing this for two years," said Jeff Jankowski, owner and founder of the Hoopla Digital service, in a telephone interview with Patch. "We're just getting started, and excited to be in Cedar Park and the Austin area."
Cedar Park Library is the 22nd library system in Texas to partner with Hoopla Digital. The service went live on Monday.
With Hoopla Digital, patrons can access content from major Hollywood studios, publishers and record companies such as "Silver Linings Playbook," "The Walking Dead" (Vol. 1-23), "Star Wars: The Force Awakens" soundtrack, "Revenant" and more.
No more waiting on a list to get highly anticipated items, noted Jankowski. Of course, material access is contingent on publishers' use of the service, but participation is growing exponentially as publishers learn of the service, he said.
"We have virtually everything," he said. "They (publishers) are just getting familiar with our company. As Hoopla Digital gets more popular with publishing companies, we get better and better titles."
Jankowski said music was probably "..our most robust offering." But as word spreads about the more nuanced interactive experience Hoopla Digital yields, other uses are likely to grow in popularity.
He singled out comic books or graphic novels -- a genre of immense popularity with a considerable following -- as one likely growth area for Hoopla Digital. The Ohio-based company invented a technology dubbed "Action View" that allows readers to click on a panel for deeper study.
"You double click on a panel, and it takes you to the caption," he said. "It's a panel-by-panel, immersion experience."
Aside from such fandom tactics, the downloadable options make the service ideal for commuters or for patrons on vacation, who are able to view their selections at their leisure without worrying about returning items on time.
One might think such a service is appealing primarily to the younger set. But Jankowski volunteered that the most downloadable movie over the Christmas holidays was "Holiday Inn" starring Bing Crosby -- a decidedly not hip offering for the youngsters.
Clearly, this is not your grandfather's library check-out experience.
Click here to view full article