Click here to view original web page at www.goshennews.com
The Goshen NewsScridible is a marketing management tool that can act as a marketing assistant in a busy office. Scredible.com is the next step in online business content marketing research and editing for websites and social media. It's artificial intelligence (AI) that frees up time and…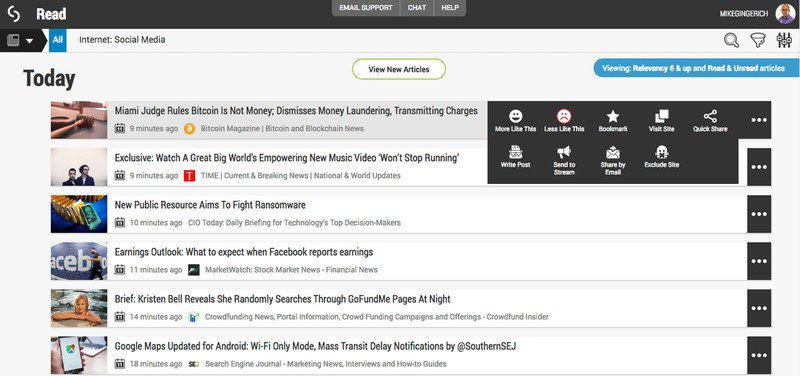 Scredible.com is the next step in online business content marketing research and editing for websites and social media. It's artificial intelligence (AI) that frees up time and works for you so that you can focus on your message. It's like hiring a marketing assistant to do online work for you, but it's a machine. If you know that content marketing for your website and social media posting of resource-rich information is important but you don't have the time, Scredible is a key resource. With this app, you're no longer searching for information online; it's brought directly to you, and drafts of blog posts and social media posts for you to edit/approve are created for you based on your unique writing style. Think of it as a virtual content-gathering and writing assistant.
How does Scredible work?
An incredible amount of information is available online: written, videos, graphics. Weeding through the huge piles of content to find information relevant to your web and social media readers can be frustrating, not to mention the fact that carving out time to do your own blog post writing can be time-consuming. The Scredible AI system selects tidbits of the information you want from oceans of data you don't have to scour.
How does it do that?
The Scredible team analyzes your website and social media posts, and a strategy is created. Whether you're in need of recruiting folks online for your sales department or seeking to showcase practical uses of your product, Scredible helps you while saving money along the way.
The Scredible system will design a unique AI system that is matched to your business and its social media needs. It fills content gaps. You'll maintain an Internet presence that reflects your style and message all with Scredible doing the work as your marketing assistant and copywriter.
After getting a baseline for your company, the AI searches for content and provides a synopsis of it in the interface for you. At this point, you may edit the content.
With each revision, the AI learns your interests and style of presentation, so it keeps getting smarter. The AI creates synopsis, whether social media post or even blog posts, the way you would, letting you spend less time editing and more time engaging with potential customers.
Scredible has several pricing levels. Whether you prefer to handle everything in-house or outsource, Scredible adapts to your ways. In the end, you save time and yet have great content on your site and social media. Scredible gives you the tools to make a truly unique and healthy brand impression online.
So, this is "high-tech" at its leading edge! Artificial intelligence to help you curate great content, write social media posts, and help you write blog posts, all from an intelligent system that learns your style and goals!
Mike Gingerich is President of Digital Hill Multimedia (www.DigitalHill.com), a Goshen web design and marketing agency. He is also a co-founder of TabSite.com, a leader in Facebook page apps for businesses. Listen to his social media and web podcast, Halftime Mike, available on iTunes.
Click here to view full article